Chargeway Now Available on Apple CarPlay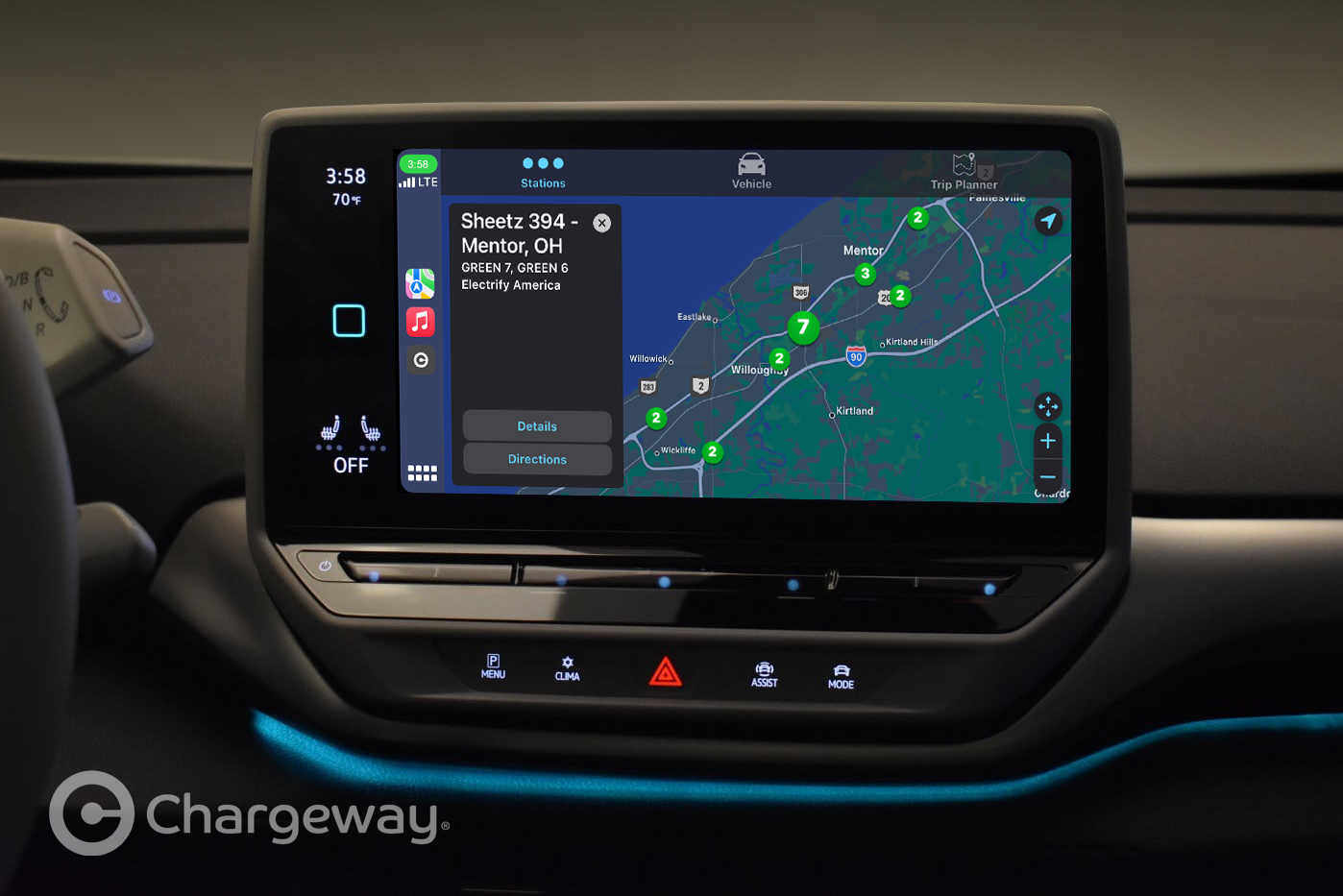 Key Points
Chargeway is now available for Apple CarPlay for iOS users in North America
Chargeway's Trip Planner seamlessly passes information from mobile to car
Chargeway displays charging options for any EV with simple colors and numbers
Chargeway, the EV charging app that has helped thousands of EV drivers in North America to simplify and easily find "electric fuel" using their iPhones is now available on Apple CarPlay.
Best known for developing a simple, intuitive color-coded visual language for charging EVs with "electric fuel," Chargeway eliminates the guesswork and confusion that surrounds EV charging. "You simply open the app and choose your EV," explains Matt Teske, founder of the Oregon-based startup. "Chargeway determines what kind of plug your EV has, but instead of engineering terms like 'CHAdeMO' or 'J1772', you get 'Blue' or 'Green', for example. The map then displays only the color-coded chargers that yourvehicle can use, so you'll never pull up to the wrong kind of charger. Each station pin then displays a number from 1-7 for power. The higher the number, the faster your car charges. It makes navigating the complex world of EV charging easier for everyone."
Chargeway's app and software has been called "game changing" by Car & Driver Magazine, and the National Automobile Dealers' Association (NADA) is working with Chargeway to help dealers around the U.S. be prepared to explain and sell more EVs.
Now that Chargeway is available in Apple CarPlay, it's that much easier for users to enjoy the app's great features – and the CarPlay interface gives the app a few new tricks, as well. "We've had a lot of requests to offer Chargeway for Apple CarPlay from drivers, dealers, as well as OEMs. There are some new elements our team worked on within the Chargeway CarPlay experience that helps users make the most of the in-car interface."
One feature includes new visuals for the station map. Users will still see Chargeway's unique color/number station pins they're used to seeing on their iPhones, but in CarPlay tightly clustered pins will be combined into red bubbles showing the station count in these "high station volume" areas. Tapping on any individual station pin then provides quick access to directions, as well as more information about the station itself, such as the network, quantity of chargers, pricing, and a quick call feature to contact network support. There's even a star ratings feature, allowing customers to leave feedback in the app for other Chargeway users to help them make the right charging choice.
Finally, Chargeway's trip planning feature – which presents EV drivers with the best Charging strategy for their trip – goes straight from users' phones to their cars. "Our pre- routing capability within Trip Planner on the Chargeway mobile app seamlessly passes a planned trip into the Apple CarPlay interface," says Teske. "It shows the suggested stops for your trip right on the dash to simplify planning, along with total charge time estimates and target battery percentage figures. Simply tap on a suggested location and click directions to launch navigation to that station."
The best part? Chargeway's trip planning feature lets you select temperature and cruising speed. "Experienced EV drivers know EVs have a different range at 90 degrees than they do at 30 degrees, or at different speeds," offers Matt. "Our app doesn't rely on guesses. Enter in the temperature you'll be driving in, and what cruising speed you're planning, and Chargeway does the math to figure out what kind of range you'll really have on your trip."
With simplified visuals, clear and correct range estimates, and seamless integration with the Chargeway mobile app, Chargeway for Apple CarPlay is sure to be a "must-have" download for EV drivers.
The latest version of the Chargeway mobile app with CarPlay is now available for download at the App Store on iOS mobile devices.
About Chargeway:
Chargeway is a mobile app and software platform serving the auto and energy industries. Chargeway's unique UI/UX simplifies and improves the "electric fuel" customer experience for every EV, every charging station. Using colors and numbers to identify plug types and charging speeds, Chargeway creates a simple, visual identity for EV charging options, offering all drivers an easier way to understand how EVs can work for their needs. For more information on Chargeway please visit www.chargeway.net.