Chargeway Partners with National Auto Dealers Association to Simplify EV Sales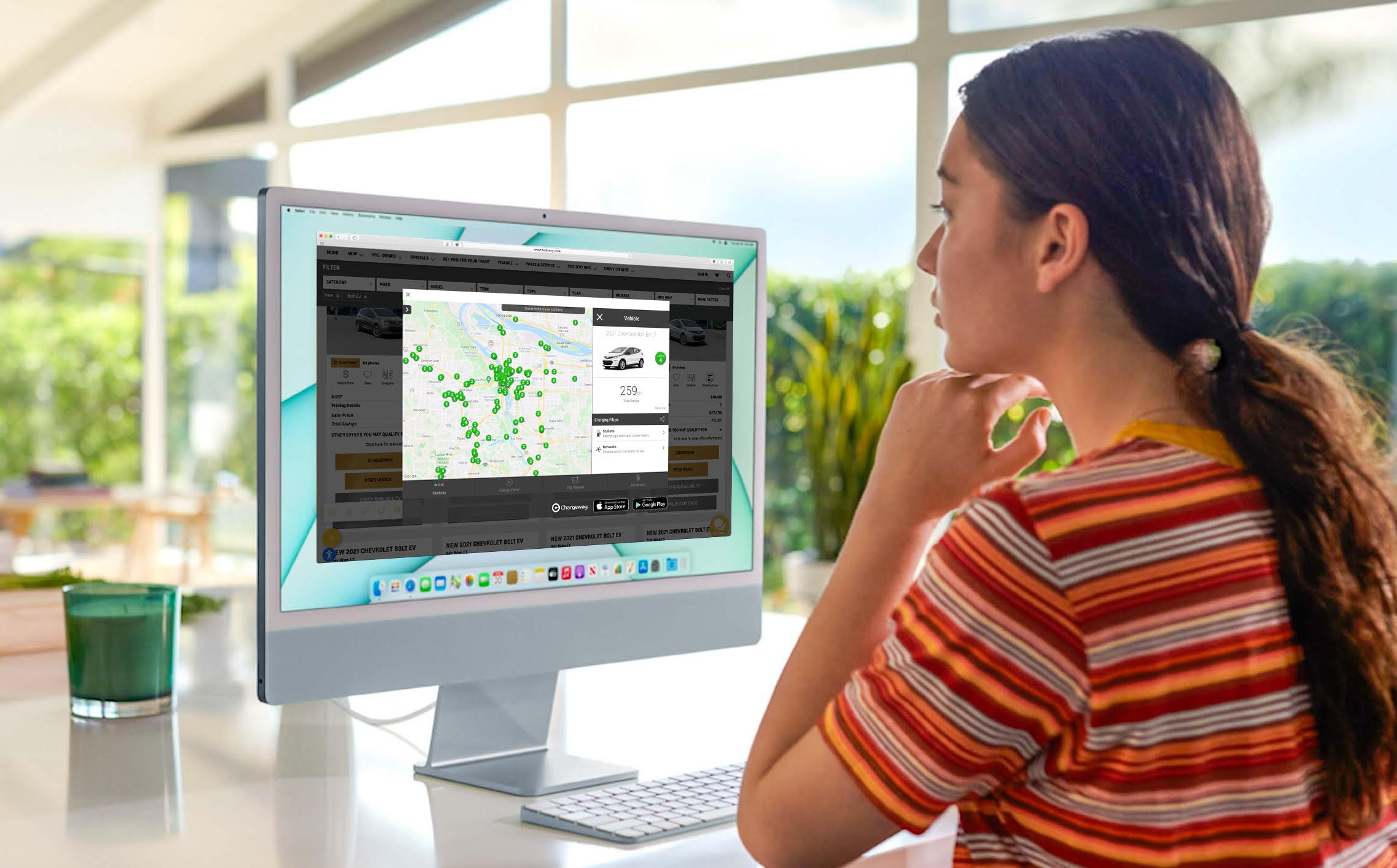 Key Points
By partnering with Chargeway, NADA is showing genuine leadership by solving many of the problems EV dealers face with better tools and training, which will enable EV buyers to get clear, correct answers to their charging questions.

Because the 16,000+ NADA member dealers represent nearly all the major automotive brands, their adoption of Chargeway will create a de facto "standard dictionary" of EV charging terms. "Green" plugs, "Level 6" chargers, etc., that will make it easier for EV dealers and buyers to communicate, regardless of brand.

"When it comes to EVs, this is the language we'll be using from now on."

"Dealers who want to get this right will want to get Chargeway."
Chargeway, the Oregon-based software startup best known for developing a simple, intuitive color-coded visual language for charging EVs with "electric fuel," has been chosen by the National Auto Dealers Association (NADA) as an Affinity Partner, allowing NADA member dealers to capitalize on Chargeway's straightforward, universal language for explaining EV charging and give prospective EV buyers the ability to visualize how an vehicle can fit seamlessly into their lives, today.
"Almost every major automaker has announced plans to go 'all electric' or 'mostly electric' within the next decade," explains Chargeway Founder, Matt Teske. "But auto dealers still don't have all the tools they need to sell cars that run on electricity to buyers unfamiliar with thinking of electricity as a fuel. That's why we've focused our efforts at Chargeway towards developing tools to not only educate the auto dealers themselves, but to help them inspire 'Range Confidence' in their customers and, ultimately, sell more vehicles. In that way, our interests are totally aligned with the NADA and its members."
"America's franchised auto dealers are all-in on EVs. In fact, dealers are essential to widespread EV adoption, particularly among mass-market buyers," says Mike Stanton, NADA President and CEO. "Closing the consumer education gap between early EV adopters and the next generation of mainstream EV buyers is critical to achieving our shared goal of getting millions more EVs on the road. We looked at a number of different training tools and consumer apps and found that Chargeway best answered the questions that our dealers were asking about EV charging, such as how long it takes, how home charging works, what incentives are available, and even how temperature and speed can affect an EV road trip. Chargeway pulls all that information in one place, so dealers using Chargeway will have a fantastic tool to properly educate those consumers who are ready to make the switch to electric."
The first of Chargeway's dealer-focused tools was the Chargeway Showroom Beacon – a six-foot tall, interactive touchscreen kiosk that launched as part of a pilot program in Portland, Oregon.  Together with the Oregon Auto Dealers Association (OADA), Portland General Electric (PGE) and Pacific Power, Chargeway placed seven Chargeway Showroom Beacons in key auto dealerships throughout Oregon in order to prove out the concept. The results were impressive: fourteen months later, EV sales in dealerships with a Chargeway beacon had increased by 200 to 1000% compared to comparable Portland-area dealers with similar inventories of EVs but no Beacon.
"The pilot showed us what we already knew, intuitively: that EV customers were more than happy to buy their vehicles from their local dealers, as long as those dealers could confidently and correctly answer their questions," explains Teske. "You could say the same thing about a pickup truck buyer who has questions about towing. They don't want guessing or generalization, just straightforward, correct answers tailored to their specific needs. Chargeway is the tool that provides those answers for EVs."
That initial pilot program showed that the Showroom Beacon was a great tool for salespeople to answer questions about EVs in the physical dealership, but it was the company's Web Beacon that attracted the attention of the NADA.
"Giving EV shoppers a clear, up-to-date image of what the electric infrastructure looks like in their area right now in a format that's easy to visualize is absolutely critical to instilling confidence in a customer who is purchasing his or her first EV," Stanton added. "The prospect of having Chargeway, and its universal language for explaining how charging really works, widely available in tens of thousands of retail locations across the country should be incredibly exciting to anyone who wants to see more EVs on the road as soon as possible."
"We update the station data every twenty-four hours," adds Teske. "That goes along with the concept of 'Range Confidence', too. We're showing people– and the dealership is showing people exactly where they can find electric fuel for their electric cars."
The Chargeway Web Beacon plugin for dealers is available now for the most common dealership web platforms (Dealer.com, Dealer On, Dealer Inspire, DealerFire and Sincro). The Chargeway mobile app for EV drivers is currently available for download on both the App Store and Google Play for iOS and Android mobile devices, respectively.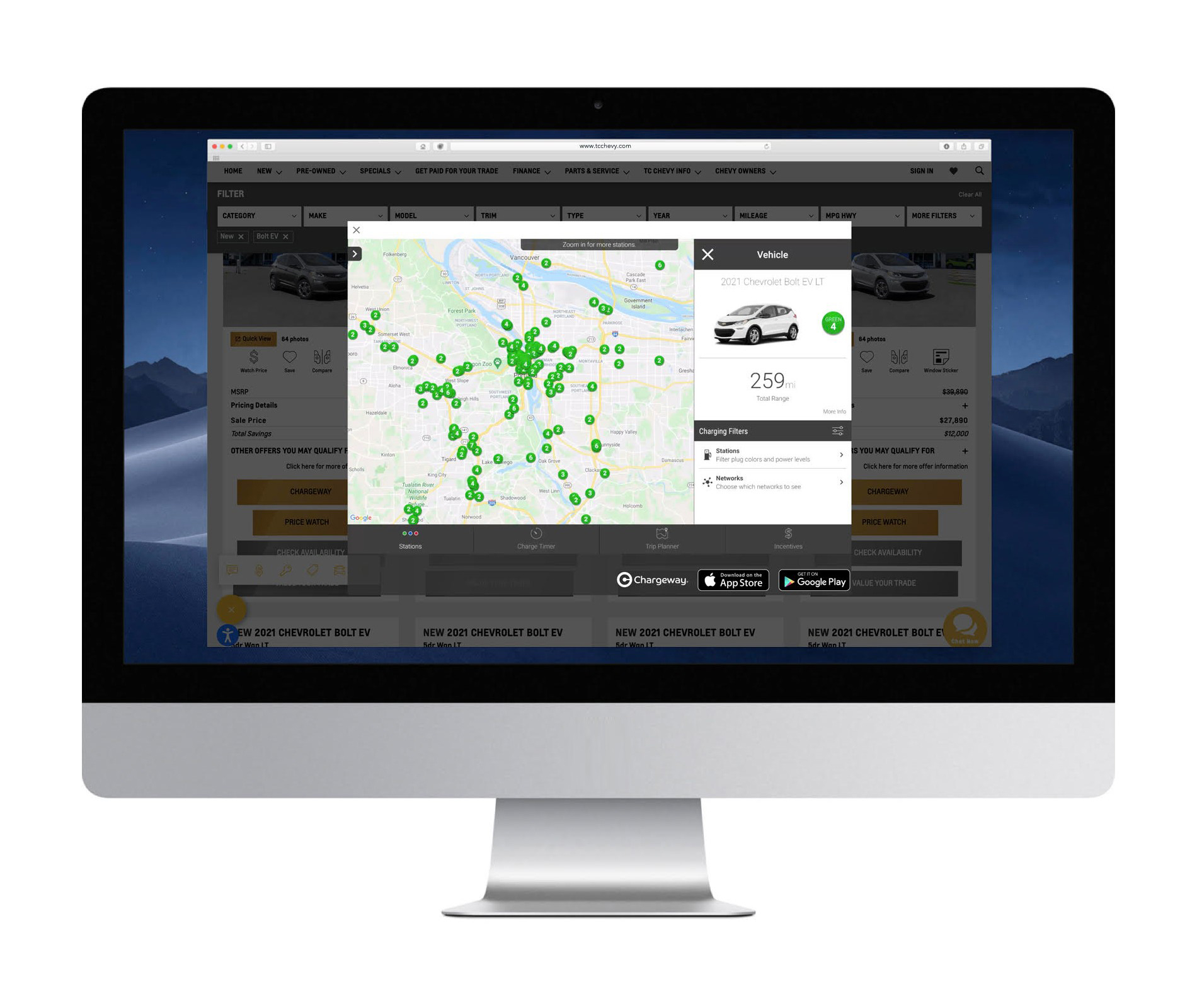 About Chargeway:
Chargeway is a communication and software tool that unites all the stakeholders in the electric vehicle industry on a common platform. Designed to improve the "electric fuel" experience using colors and numbers to identify plug options and charging speeds, Chargeway creates a simple, visual identity for electric car charging options that offers auto dealers and public utilities, as well as consumers, an easier way to visualize how electric cars can meet and exceed everyone's transportation needs. For more information on Chargeway's platform, visit www.chargeway.net or download the Chargeway EV driver app on iOS or Android.
About NADA
The National Automobile Dealers Association (NADA), founded in 1917, represents more than 16,000 light-vehicle and commercial-truck dealerships with 32,500 domestic and international franchises. New-vehicle franchised dealers are directly responsible for more than one million U.S. jobs.